Add to Bookmarks
Days of Old. Days of New.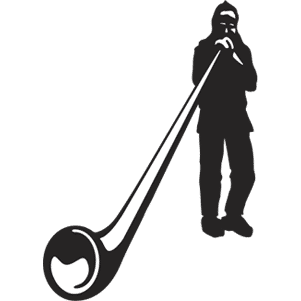 We gratefully acknowledge that in Smithers we live, work and play on the unceded traditional territory of the Gidimt'en Clan and the Witsuwit'en people people.
Witsuwit'en
The Bulkley Valley is the traditional territory of the Witsuwit'en, who have lived here for countless generations. Their rich culture is seen and heard throughout the valley, the land that they have known and loved longer than memory can recount.
The name Witsuwit'en can be roughly translated as "People of the lower hills". The Witsuwit'en are part of the Athapaskan language family. Their territory surrounds the Bulkley River in the northern interior of British Columbia. The territory of the Witsuwit'en Nation extends from the village of Hagwilget in the New Hazelton area in the west to Burns Lake in the east. From Witset (formerly Moricetown) in the north it stretches to the Ootsa Lake area in the south. Within this expansive territory there are six Witsuwit'en communities (Hagwilget, Witset, Broman Lake, Burns Lake, Skin Tyee, and Nee Tahi Buhn) in addition to the communities of Smithers, Telkwa, Houston, and Burns Lake.
Central to the Witsuwit'en culture is their traditional system of governance based upon five clans: Gitdumden (Wolf), Laksamishyu (Fireweed), Tsayu (Beaver), Gilseyhyu (Big Frog), and Laksilyu (Small Frog). Every clan is divided into houses with each house comprised of a sort of extended family. There are thirteen Wet'suwet'en houses. Each house has a hereditary chief (the Chief's name is passed on in the line for perpetuity). Usually there are Wing Chiefs (Sub Chiefs) for each House as well.
Every Witsuwit'en individual is born in a Clan and a House base on matrilineal descent (i.e. through the mother's heritage). The entire Witsuwit'en system is based upon mutual support and long-term relationships. There are currently 5000 Wet'suwet'en members throughout the territory and away from home.
A town is built
When the first Europeans arrived in the mid-1800s, they did so in order to satisfy Europe's appetite for fur. Trappers and traders first arrived by trekking overland and using the area's river systems to access what they believed to be the untapped fur resources of the new colony of British Columbia. Soon after, construction of the Collins Overland Telegraph line brought workers and surveyors into the area and non-indigenous settlement began. Intended to connect North America to Europe via the Bering Strait, construction of the line was abandoned in 1866 when others racing to complete the trans-Atlantic cable succeeded first and made any need for this telegraph line obsolete.
Today, we come across abandoned mine shafts, hiking trails that were once mining roads, and ghost town sites that tell stories of this later Euro-Canadian exploration and settlement, led by Hudson's Bay Company traders, government land surveyors, Yukon telegraph construction workers, and those headed north to the gold fields of the Klondike.
The story of the Town of Smithers begins in 1913 with the coming of the railroad. The federal government in Ottawa was eager to extend its trade and transportation routes across the continent, and plans were well underway for a railway that would extend from Manitoba in the east to the current city of Prince Rupert on the west coast. In 1913, after two unsuccessful attempts to establish its divisional point between Prince George and Prince Rupert, the Grand Trunk Pacific Railway (GTPR) turned its attention to the unassuming bit of swampy land below the towering Hudson Bay Mountain.
Named for the highest official of the GTPR, Sir Alfred Smithers, the town immediately began to grow. "A new building is erected every day in Smithers!" boasted one promotional advertisement. Heritage buildings such as the train station, constructed in 1918, and the Central Park Building, constructed in 1925 as the provincial government office, speak to Smithers' role as a regional centre and its place within the rail history of British Columbia.
In 1921, Smithers was designated as the first incorporated village in British Columbia. Development of local mineral and agricultural resources were encouraged and a steady economic growth was realized. Pioneer settlers made Smithers their home because of the fertile valley soil, abundant mineral riches, and imposing coniferous forests. Many of the non-traditional names of mountain ranges in the area reflect the prospecting efforts of the early settlers, including Silver King Basin. Following World War II, many Europeans--especially Dutch and Swiss families--immigrated to Smithers. In 1967, Smithers moved from the status of village to incorporated town.
The rail line continued, and continues today, to serve as an important transportation corridor for Smithers' mining, agriculture, forestry and tourism economies.
What's a Smithereen?
Mountains, rivers, forests and lakes...wild spaces to roam and breathe...and a vibrant and playful community. Spend some time in Smithers and you may find yourself engaging with a town local—a Smithereen. They are passionate about their community! When they aren't paddling, pedaling or skiing through their landscape, they work in forestry, mining, and on the railroad; they run farms and service businesses. They live just far enough away from any metropolis that they are somewhat self-reliant. Many heat their homes with wood and chop it themselves. They have chainsaws, tractors, horses and trucks. Lawyers, doctors, scientists and school teachers might spend their week in an office but on Saturday they're likely hiking or harvesting hayfields. Smithereens are resourceful and entrepreneurial because they need to be. And they are neighbourly because it's in their blood. This town is small enough that people feel a sense of ownership in the place they call home. They love where they live and love to share it with you.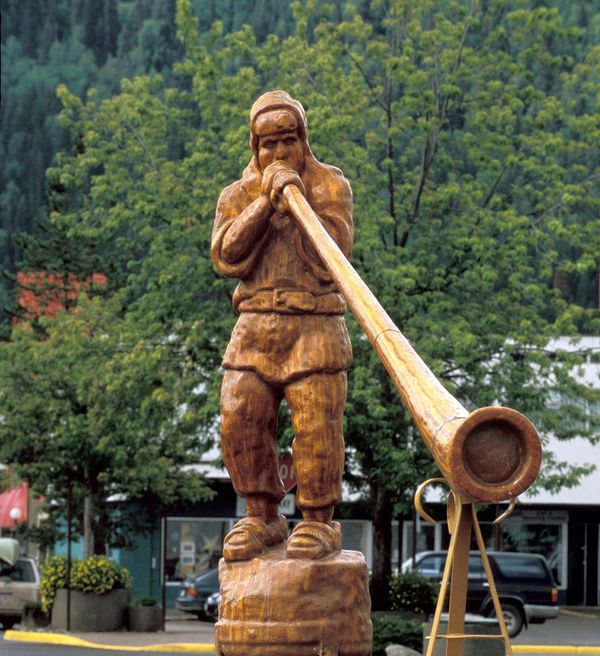 The Story of Alpine Al
Because of its alpine environment, Smithers adopted an "alpine theme" in the 1970s. Main Street was adorned with alpine-style rooflines, red brick sidewalks and a wood sculpture called ALPINE AL, who plays the alphorn! Alpine Al has made his way into the hearts of many Smithereens and has become the guardian of Main Street and the official mascot, and logo, of the town. The current statue, erected in 2016, is seven feet tall, carved by chainsaw and made of 1,000-year-old red cedar. In recent years, Alpine Al has come to life in various animations on the TourismSmithers.com website, and now hikes, bikes and snowboards across these pages, inviting you on a good-natured adventure in this place we call Smithers.
Stats & Demographics
Nearly 6,000 people live within the Smithers town boundary, but nearly 20,000 live in the Bulkley Valley and rural communities serviced by it. As a service centre, Smithers offers many more amenities than you might expect for a town its size.
Population: 5,351 (as of 2016 Census); regional service center for approx. 20,000
Location: Latitude - N 54* 49' 29" Longitude - W127* 10' 58"; situated in northwestern British Columbia on the Trans Canada Yellowhead Highway (Route 16), approx.. half way between the cities of Prince Rupert and Prince George; 1150 km (690 miles) north of Vancouver BC;
Elevation: 494 meters/1 621 ft above sea level
Climate: Relatively warmer and drier than the coastal mountainous areas to the west; July average temperature is 14 C/59 F; January is -10 C/14 F; Climate
More details and other interesting info on Wikipedia