Add to Bookmarks
Witsuwit'en language keeper Dolly Alfred
"Witsuwit'en language identifies me of who I am and where I come from. I hold up my precious language keepers in my heart. Tabï masih niwh disnï!! Writing the Witsuwit'en language in whatever writing style you use is good. It's what comes out of your mouth that matters. Witsuwit'en wid'ënï we must keep our identity alive!!"
~ From Dolly Alfred's WITSUWIT'EN WILHTATDZÏN (Wednesday) Facebook page
Dolly Alfred is an online ambassador of the Witsuwit'en people and their culture.
Dolly's weekly Witsuwit'en Wilhatatdzïn (WW aka @witsuwitenwednesday ) Facebook page is a video series devoted to teaching the language of the Witsuwit'en people. In it, she shares the words that are important to Witsuwit'en culture as well as their cultural traditions and practices -- words for family relationships, local landscapes and landmarks, traditional foods and medicines, even seasons and colours. She shows how even the youngest of children are learning the language and keeping it strong and, as a mother of one son, and grandmother of five, she's a testament to how it's done.
In addition to teaching words and phrases, Dolly uses her Facebook page to invite understanding of Witsuwit'en life-ways, not only to help preserve them but for us to step into them, if only for a moment. She also shares news, and her views, on evolving local and provincial indigenous topics and events.
Witsuwit'en people are a matriarchal society; Dolly and her mom, Sue Alfred, are from the Tsayu (beaver) clan. Her mom was president of the Witsuwit'en Language and Culture Society and is currently compiling a Witsuwit'en dictionary. Dolly's father, Chief Ut'akhgit (also known as Henry Alfred), was a hereditary chief of the Laksilyu (small frog) clan and the last-surviving plaintiff in the historic Delgamuukw-Gisday'wa case in which the Supreme Court of Canada recognized existence of the Gitxsan and Witsuwit'en hereditary chiefs' governance over their unceded traditional territory.
As a child, Dolly attended the Witset day school where she was strapped for speaking her own language. In 2019, she was honoured for teaching that language, receiving the Major Contributor to Arts and Culture award at the annual Chamber of Commerce Business Awards Gala. In response, she said, "The most important reason I started doing this is to reach as many people to teach them the richness and beauty of the language and culture, especially people who are away from Witset and not surrounded by fluent speakers to teach them." https://www.interior-news.com/news/bulkley-valley-credit-union-named-business-of-the-year/
During non-covid times, Dolly educates young people of the community by visiting schools and sharing her knowledge of the Witsuwit'en culture and would like to start a Witsuwit'en language summer day camp once the pandemic is over. Currently, Facebook is the only social media WW is on but Dolly would like to put Witsuwit'en words and phrases on Tik Tok.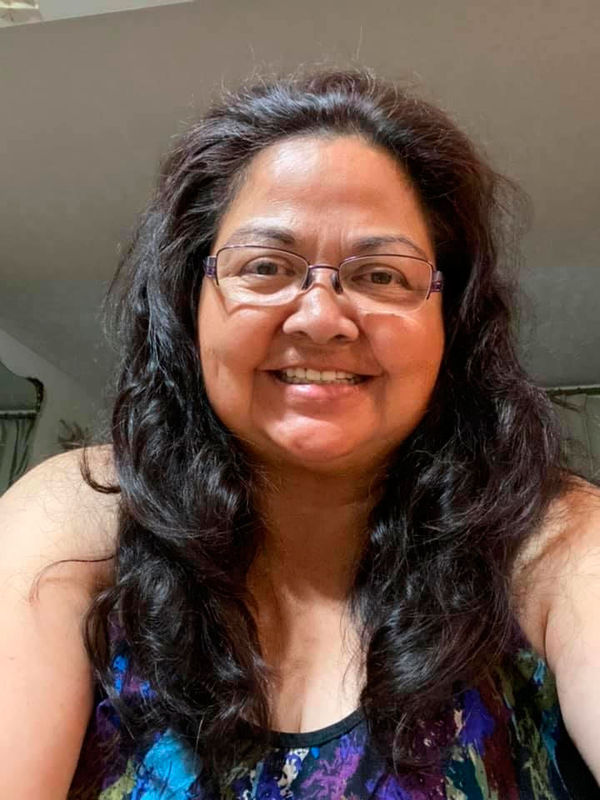 Q&A with Dolly
Why did you start WW?
WW is primarily to reach out to the Witsuwit'en people who are living away from Witset community and away from the fluent speakers. Especially the youths. However, non-Witsuwit'en who are interested in the language are welcome to learn my identity-the Witsuwit'en language on WW. To get a sense of who I am and where I come from, to grasp our rich and distinctive language and culture.
Witsuwit'en is an endangered language. What percentage of Witsuwit'en still speak it?
Currently the Witsuwit'en language fluency is at 1.5%. We lose a part of our language each time a fluent speaker passes on.
What is your favourite word/phrase in Witsuwit'en?
My favorite phrase is, "Ndu wa hotsani sinïnlhen"-"Why are you looking at me like that."
What is the most important word/phrase in Witsuwit'en culture?
The most important word in the Witsuwit'en language is "Wiggus"-"Respect".
How do you say, Welcome to the Bulkley Valley/Smithers?
There is no word for welcome. To describe and say "welcome" the Witsuwit'en would say, "Denïnyeyh" (singular) which means "go inside, come in" and "deniwh dïlh" (plural) which means "all of you, come in". Bulkley Valley/Smithers deniwh dïlh!
How do you say, Thanks, Dolly?
Misiyh Dolly
Thank you, Dolly! Misiyh.
Witsuwit'en words for local landmarks:
Dzilh Yez (Hudson Bay Mountain)
Dzilh Cin' (base of Hudson Bay Mountain, including Smithers)
C'iyiz K'iz (Evelyn Mountain)
Ts'idek'iy (Glacier Gulch)