Add to Bookmarks
Smithereen Stories: Fishing and Beer
Coffee and camping, skiing and poutine, fishing and beer—of the many classic combos on tap in the North, it's that last one that keeps Blaine Estby busiest in Smithers these days.
It's not surprising, perhaps, since it was fishing that brought Blaine's family to the Bulkley Valley back in 1980.
"Both sides of my family are from Alberta," he says. "They used to come out fishing and fell in love with it here before I was born, so they moved out and bought land at Tyhee Lake. My first memories were probably on the river."
Like many born-and-bred locals, Blaine left Smithers after high school, but always felt pulled back to the bends and runs of the free-flowing Bulkley.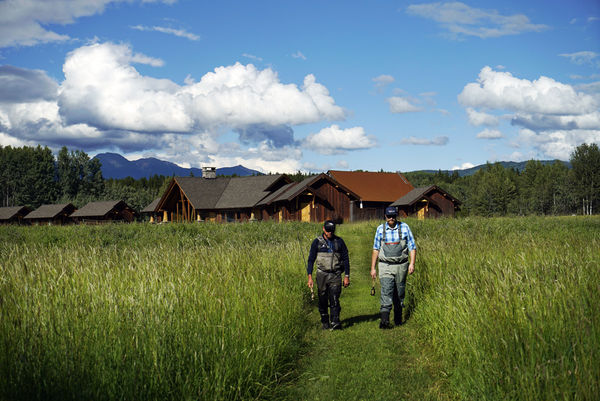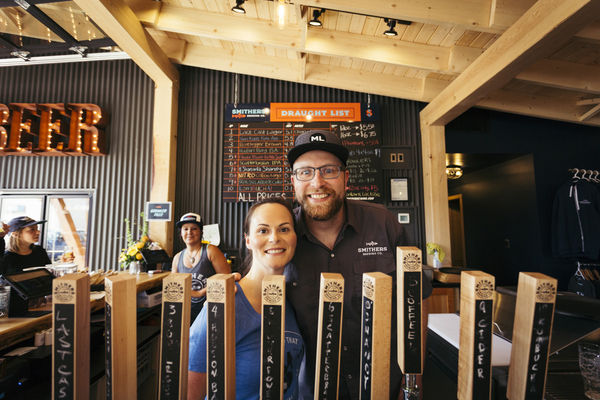 "Every holiday I'd come up here. And I'd drag a lot of girlfriends up here because they wanted to go on real vacations, but I just wanted to go fishing and camping and hang out with my friends. It's a really fun place, and a familiar place for me, so it was really good to come back."
A few years ago, after returning to his hometown, Blaine worked with Adin Bennett, brewer Cam McKeigan and a few other friends to establish Smithers Brewing Co., which, as they describe it, is "just a little timber framed brewery in a kickass town making the best beer we possibly can."
In their friendly brewery and taproom on Third Avenue, Blaine and the rest of the Smithers Brewing crew serve up a unique selection of craft brews and seasonal offerings, many made from unconventional local ingredients. They're now in their third year of operation, and their canning capacity kept locals sated when social distancing kicked in. Their business has become one of the backbones of Smithers culture, so we asked Blaine to share some of his favourite things about living in this small but decidedly kickass town.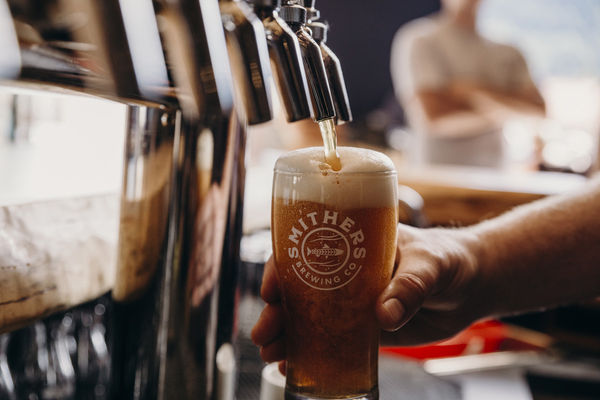 How has the culture of Smithers influenced what you do at the brewery?
Well, part of it is that Smithers is such a diverse community and such a diverse area for farming, so we've tried to work a lot of those local flavours into traditional beers. For example, we work with Bulkley Valley Hive & Honey—they make soap with our beer, and we use their honey for probably six or seven of our recipes. We just worked with Living Roots Family Farm to put 400 pounds of haskap berries into two batches of seasonal beer. Basically, we try to do as much local stuff as we can with old friends. Another example would be Roy Henry Vickers, who collaborated on artwork for a seasonal Skeena series of beers for us. We're lucky in that this area is full of really amazing, really creative people who want to work together and help each other out.
So when you're not at work, what's your best Smithers day off?
In the summer, we'll usually take the camper to go explore a back road, or go fish and check out one of the lakes or rivers. Dennis Lake up behind Hudson Bay Mountain or anywhere in the Hazeltons makes an amazing weekend. In the winter, it's just getting on my snowboard anytime I possibly can—and that's usually within minutes of town, whether it's the backcountry or the hill. Then for food afterwards, the Alpenhorn Bistro is always a favourite, as well as Telly's Grill and Roadhouse.
What about the best day fishing?
I'll pretty much fish anywhere and for anything, whether it's trout, salmon or steelhead. But Smithers is really built around that steelheading side, and the fall is just so special up here. I think everyone sees that—all those picturesque days on the Bulkley River are amazing, and having a world-class steelhead river within minutes of your house so you get out in the morning before you go to work is pretty neat. To be able to have one of our own beers sitting on the river now is pretty neat, too. And I should also mention that if you're here in fishing season, a lot of the guides, clients and locals hang around the brewery, so if you stop in you're pretty likely to hear a fishy tale or two.
NOTE:
If you're interested in fishing the rivers, lakes or streams around Smithers, you can stop in to Oscar's Fly & Tackle or McBike & Sport for licenses, local knowledge and all the gear you need.
The opening of Blaine's Smithers Brewing Co. coincided with that of another craft brewpub, Bulkley Valley Brewery, giving locals and visitors multiple options to sip a unique Smithers pint of bright lager, dark ale or hopped-up IPA.