Add to Bookmarks
Smithers: Mountain Biking via Train
Traveling by train across Northern BC to sample the mountain bike trails, our first glimpse of the Smithers landscape was through the Via Rail train car window. It looked as untouched and wild as the rumors that brought Trish Bromely and myself here. The undeveloped trail potential had our bike brains in a tizzy but our hearts wanted it to stay raw, - we'd soon realize there are already more trails than riders in this neck of the woods, let the wild stay wild.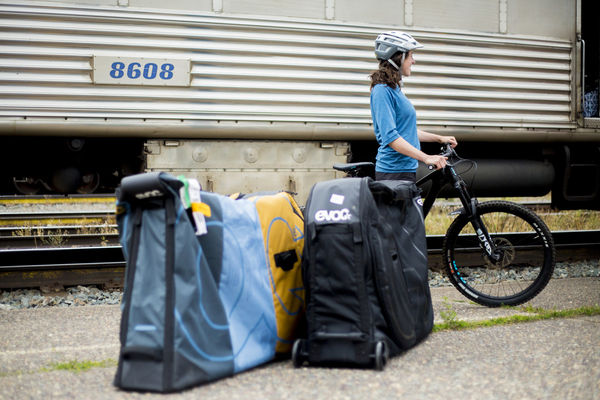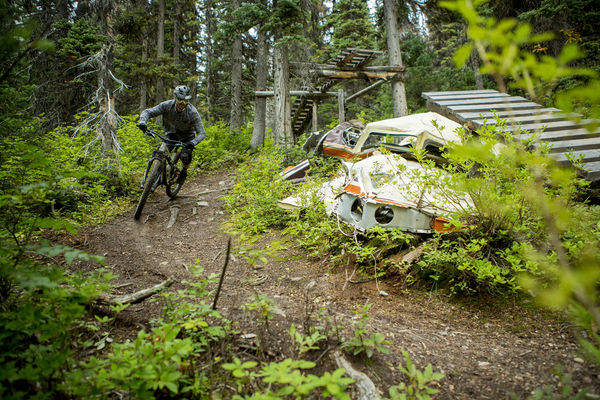 The most genuine town in Northern BC is easily Smithers (in my opinion). It always steals a little bit of my heart. The lively mountain community is thriving. Grown men wander around town in their fishing waders talking about the Skeena and Bulkley Rivers in a jargon-filled language I can barely follow. Young kids glide around on their push bikes. The hikers plot their next adventure with boots laced and poles in hand. And as for the mountain bikers, they sit on patios respectfully keeping their muddy attire out of the picturesque establishments relishing their most recent ride. Smithers's heartbeat is alive and thriving. While feeling all the feels for this place, I look over at Trish's face and her jaw is gapping with a smile and eyes glistening - clearly she'd had the Smithers spell cast on her too.
Shuttle laps, yes, please.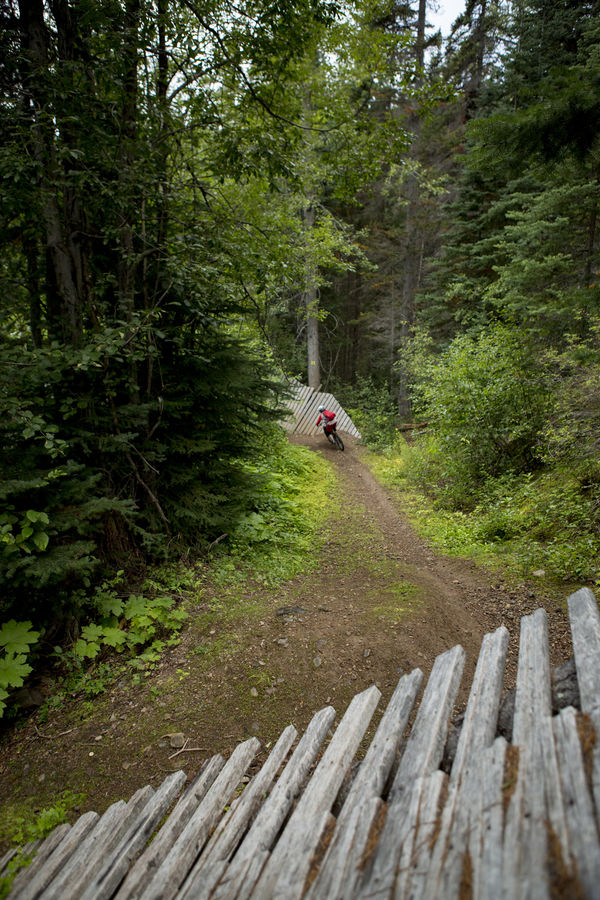 The Piper zone is all about it. Accurately named after a Piper plane crash, the plane is now a feature in one of the trails for the brave who dare to gap it. A smooth forest service road that leads to the local ski hill, Hudson Bay Mountain Resort hosts a series of trails that require a shuttle drop. If you don't happen to have random friends in this far away town you can probably make them, or hire the Smithers Mountain Bike Shuttle for a drop anywhere in town for a small fee. Starting out steep and narrow all the trails in the Piper zone seem to open up with more and more features and flow as the long descent nears the bottom - a full sampler in a single ride.
In attempts to hide my 30th birthday, I failed. Old friends and new ones alike seemed to love the excuse to let a bit more loose than normal at the Smithers Brewery. I blame the juicy sours and friendly locals but the next morning riding in the Bluffs Recreational Area wasn't smooth. The oldest trails of Smithers lie here and you can feel the ghosts of biking past come alive in the purposely tight corners and wood structures. OG and tech riders rejoice, this is your sweet spot. Hungover humans who dig flow, buckle up, you're about to learn a few things, and that's exactly what I did. While my company was frothing over each trail, my first love was the giant Wheel of Fortune trail section sign mounted to a tree with a pull string. My next love after a few rounds of sweat therapy and water was "Auntie Flo". She was steep, bermy and poppy.
Revisiting the Bluffs the following morning had me loving Remembrance Day and Broken Axe. New day, new human, new trail love, who dis? A reminder not to judge a network on ride one, day one, or hungover - but you really shouldn't be doing much hungover. Why am I still learning this?
Another train station hang had us faffing about with bikes when to our surprise another biker approached us. Turns out the sixty-something year old with downhill pads on and a fancy new Santa Cruise was an off duty train conductor that just finished a ride in the Bluffs. He was coming to say hi to his coworker who was driving the train we were waiting for. The bond of bikers is strong in the north. He passed along a few nugs of info about our next destination and we thanked him as we boarded and settled in for a train ride to our next destination.