Add to Bookmarks
Ski Pro's Take on Hudson Bay Mountain
Originally published by Snowseekers for #RideNorthBC
Local Smithereen writer and ski pro Claire Challen makes her home base at Hudson Bay Mountain in Smithers. Here, she offers up her local perspective on skiing the mountain, from green to blue to black.
Rising crisp, tall and pristine above the town of Smithers, Hudson Bay Mountain Resort (HBMR) beckons to winter enthusiasts.
Only 20 minutes from downtown, spending a day in the mountains here is as easy as finding something warm to wear and catching a ride on the SMP-RV Mountain Bus.
I grew up skiing Hudson Bay Mountain. I've been fortunate to have skied all over the world, from the sunny slopes of South America, the majestic peaks of Europe, and many of the destination resorts of the US & Canada, but somehow this mountain always welcomes me home.
As an athlete and coach of the Smithers Ski Club through the years (now Smithers Ski & Snowboard Club), I have spent many days up here in this magical place. Grab your gear, clip in and follow along, as I showcase how HBMR is a resort for all reasons, from green to blue to black (beginner to intermediate to expert, respectively).
WATCH: Get a taste for the skiing and snowboarding terrain and take a virtual tour of Hudson Bay Mountain with Claire Challen
First stop, the designated learning area within view (and therefore easy access) of our day lodge where I get to watch new skier Laurel try her hand at this sport. Next up, I'll go chair-side for a cruise on my favourite blue run with locals and good friends Dave & Kate. Finishing off the ski part of the day, we'll drop into some expert, black diamond terrain with a couple of my nearest and dearest lifetime ski pals.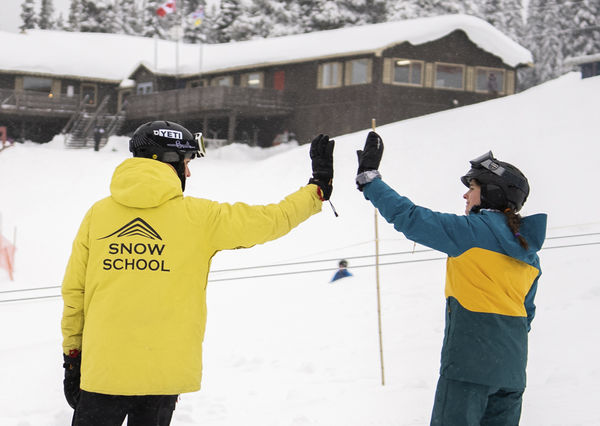 1st stop » Green: the beginner experience at HBMR
Laurel Curley, a recently relocated Smithers resident who works at Smithers gear store Local Supply Co, was keen to ditch the daily grind for a day in the mountains to learn to ski.
Eyeing the resort map, Laurel decided with a nod that heading to the top of the mountain and skiing chair-side would be an achievable goal by early spring. Directly outside the rental shop, gear in hand, Laurel met her instructor Jacob aka "Jake" Leigh, who immediately took her under his capable wing.
Without even having to ride a lift, her learning had begun. First it was familiarization with equipment followed by a basic understanding of body position. Once the ever-important "How do I stop?" skill was explained, Laurel had her first taste of sliding on skis.
Fast-forward 20-minutes and Laurel had mastered the Little Rascal handle tow. It wasn't long until I watched as she made her first controlled and very steady turns in the designated beginner area.
NOTE: The Little Rascal Handle Tow will be replaced by a new Moving Carpet Lift in 2023-24.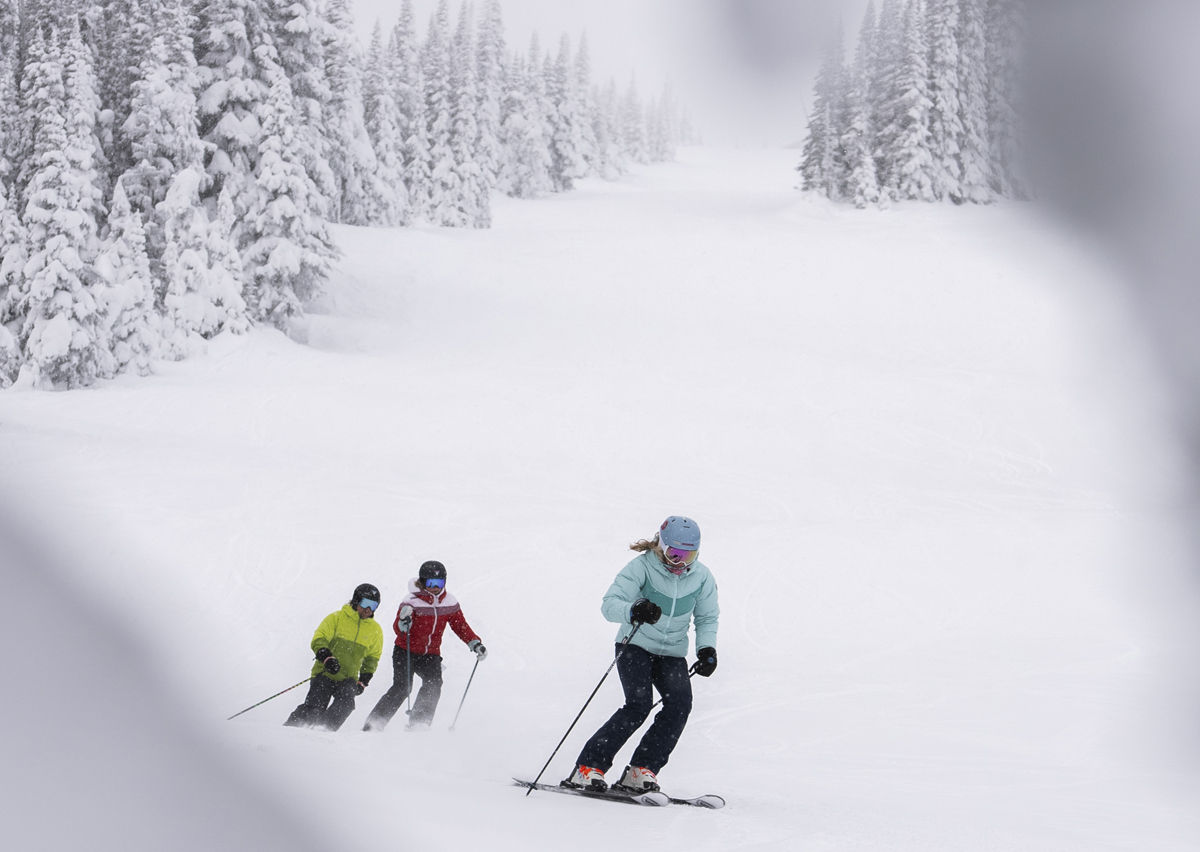 Challen and friends Dave Bobb and Kate Portman arc out some wide turns on HBMR's abundant, uncrowded blue slopes | Photo Evan Dux for Snowseekers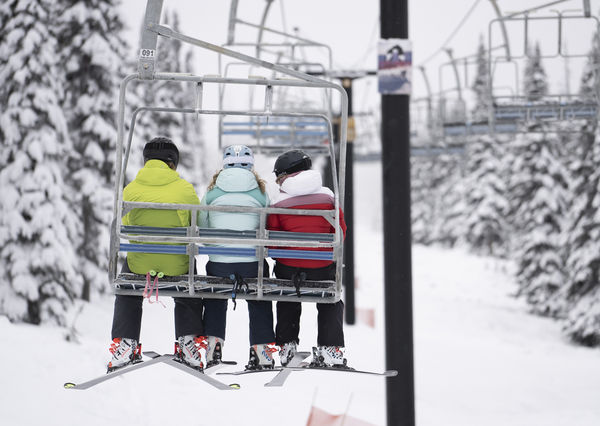 2nd stop » Blue: fun with friends on HBMR intermediate runs
Leaving Laurel to hone her newly-learned skills, I hopped on the Panorama T-bar over to the east side of the mountain. Here I'd catch up with my long-time friends Dave Bobb and Kate Portman for a rip down my favourite blue run Ptarmigan, the most spacious run on Skyline Chair.
With over 50 per cent of the mountain terrain catering to blue/intermediate skiers, Hudson Bay Mountain is truly a cruiser's paradise. Wide-open and uncrowded with a mix of flats and moderate pitches, Ptarmigan is one of those runs where I feel like I'm floating... maybe even flying?
We had the run to ourselves and took full advantage by arcing it up from groomed edge to edge, weaving in and out of each other's turns.
The clouds parted as the chairlift came into sight, gifting us a peek-a-boo view of the town of Smithers. Nearing the bottom we were drawn into the finely gladed trees of Seven Sisters, just skier's right of Ptarmigan for some playful tree-skiing to mix it up.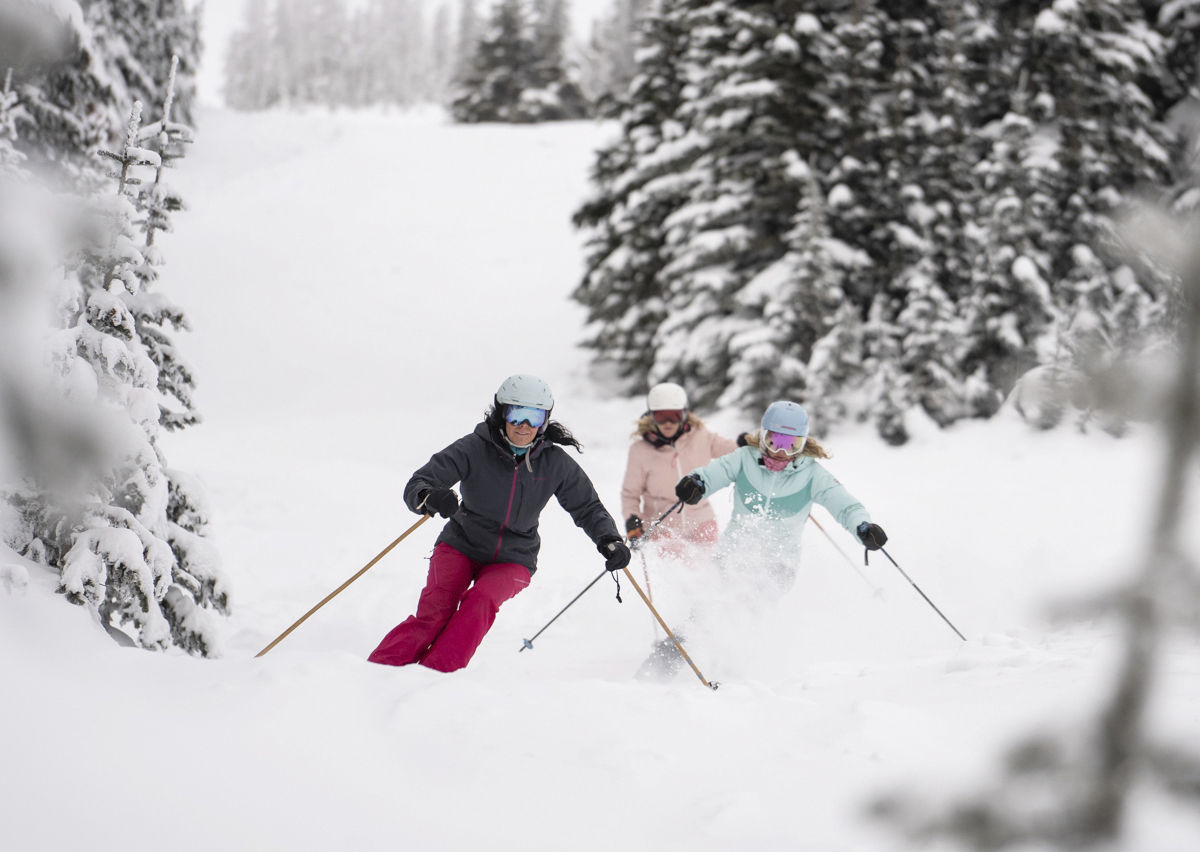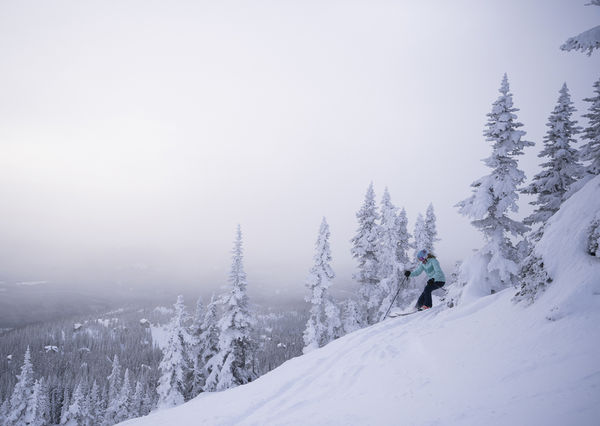 3rd stop » Black: attacking HBMR's advanced terrain
After lunch I met up with two of my best-ever ski racing buddies, Kerri Hunter and Heather Munroe. One of the things I truly love about skiing is making connections on the slopes which last a lifetime, such as the friendships I have with these two.
Reconnecting in the mountains, shredding the slopes with my girls is the ultimate gift. Last night's snowfall covered the runs with a delicate dusting of powder, softening the terrain perfectly. It was going to be a black diamond kind of afternoon!
It should be mentioned that after a snowfall here at HBMR, fresh tracks can literally be had all day long; this is the main reason why I love skiing here. I don't want my ski days to be a competition for first tracks nor do I want to begrudge another skier their chance at shredding a fresh line. Here, there's enough for all of us.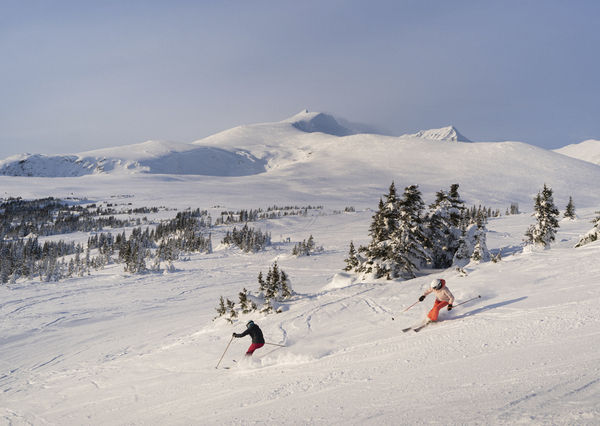 Today I wouldn't be sharing a traditional deep Hudson Bay Mountain powder day with the girls but nonetheless, the snow proved soft and beautiful. Never a dull moment taking in all the surrounding mountain scenery, as we watched the weather move in and out of the valley.
Shifting weather patterns brought us brilliant blue skies in one moment and light snowfall the next! We had a blast playing in the snow feeding off one another's energy. With short lift-lines and a quick turn-around from bottom to top of the mountain, we were able to carve out an afternoon to remember.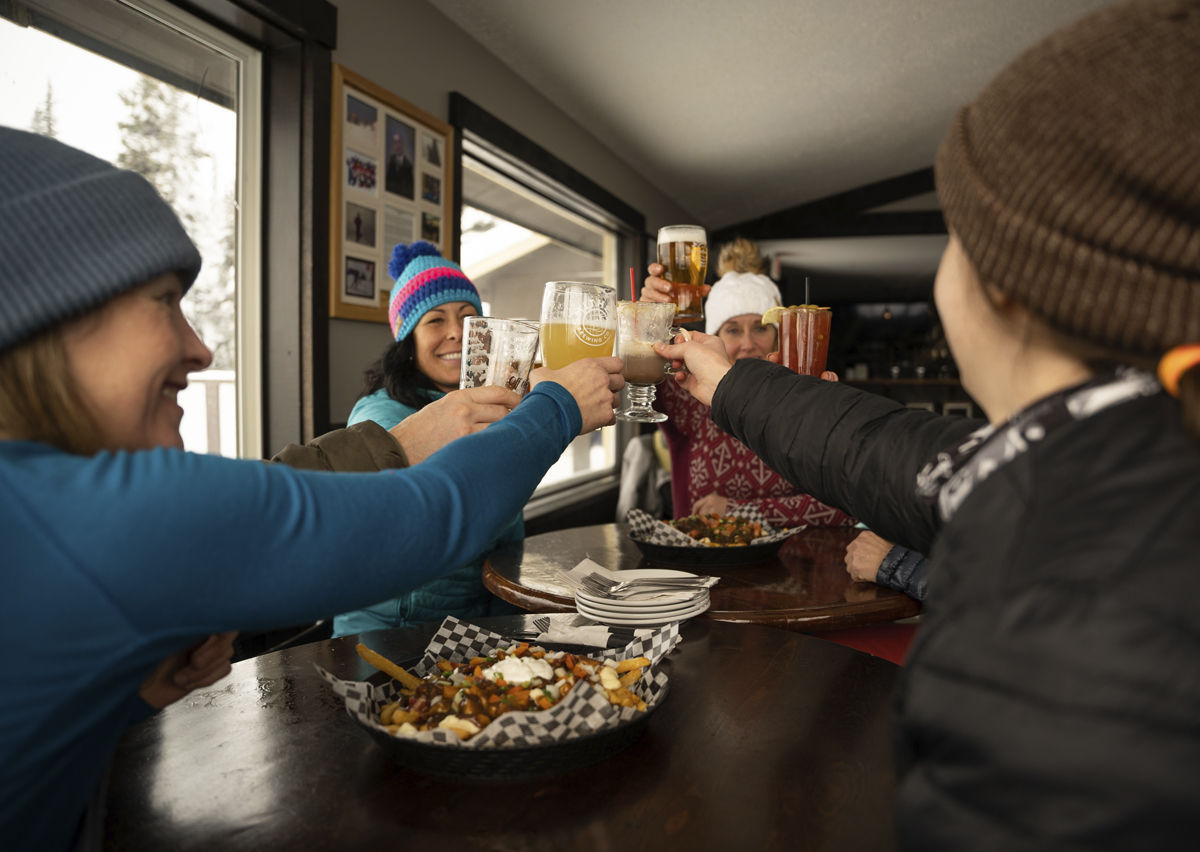 Whisky Jack's Lounge on Hudson Bay Mountain has stunning panoramic views | Photo Evan Dux for Snowseekers
Aprés at HBMR
What day of skiing is complete without aprés? And what better place to meet up with all my ski pals from the day than Whisky Jack's Lounge with its stunning panoramic views, epic plates of gravy-laden poutine and thirst-quenching bevies!? Cheers to a fabulous day, filled with friendship in the mountains.
What better reason could you need to join us up here at Hudson Bay Mountain in Smithers?
Unlock the magic of a Smithers winter getaway with these suggestions:
Getting to Smithers
Driving: 4h from Prince George - Smithers via Hwy BC-16W
Flying: Air Canada also offers daily flights.
Ski & Stay in Smithers
Where to stay? Smithers has you covered, sort through their Ski & Stay collective. This past trip SnowSeekers stayed at the well rated Aspen Inn, with dinner at their Riverhouse (where we caught up with local Smithereen Alex Cuba a few years back).
Smithers Après
Hudson Bay Mountain info